3D Visualization
3D projects such as retail, interior design and architectural visualization are the focus. We can accomodate your project's detail &amp budgetary requirements in terms of level of detail &amp photorealism.
Interior Design Visuals
- the emphasis tends to form, colour, lighting and other artistic preference &amp composition. We will realize your design to exacting texture, finish &amp colour specification. From general presentation visuals to photo realistic imagery we can provide visuals to suit.
Requirements may range from basic lighting, floors & shadowing - to complex features such as geographically accurate solar, ambient occlusion, bloom, volumetric &amp multiple point lighting. We will render at your projects required resolution texturing and camera settings.
Architectural Visualization
- we will not only model & render to your project's finish &amp colour specification, but also produce bespoke layered &amp mapped textures where preferred.
Photographic Composites
- where time & cost are of the essence and via the usual vast compliment of photo-editing tools. 3D visuals are matched &amp blended to your real-world or preferred environment and incidental details added &amp colour settings optimized.
Visuals &amp renders are provided in industry standard digital formats, compliant with photo-editing packages such as Photoshop.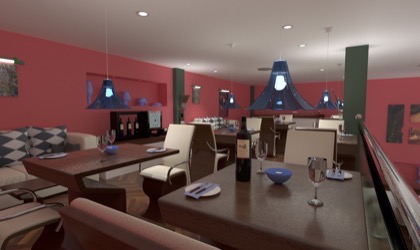 " ...CADVis has helped us on numerous residential & commercial projects involving floor planning & 3D internal visualizations. Their assistance has proved invaluable, delivery of drawings & images has been on time & has proved very cost effective. "
Gayle Brooke, Churchills Storage & Refurbishemnt Ltd
3D &amp INTERIOR DESIGN VISUALS
Restaurant 3D visualisation
Shop fitting 3D design images
ARCHITECTURAL VISUALIZATION
Architectural visualization
Installation visualization
PRODUCT RENDERS
3D Visual mobile medical unit
Interactive sculpture render